Kwok and Dash clean up IRC at Sydney Short Ocean Racing Championship
Beau Geste and JustADash have cleaned up Division 1 and 2 respectively at the 39th Sydney Short Ocean Racing Championship (SSORC) hosted by Middle Harbour Yacht Club, each winning all three races.
Hong Kong businessman Kwok and his Team Beau Geste, representing Royal New Zealand Yacht Squadron won all three Division 1 races from fellow TP52, RKO (Aaron Rowe). Bob Cox vastly improved on his seventh of yesterday to move up to third overall.

Division 1 gets off the start today - Phil Clinton, MHYC
Phil Dash, at the helm of his Beneteau First 40, JustADash, also won all three Division 2 races, beating the Matt Wilkinson skippered Farr 30, Foreign Affair and Philosophers, skippered by Peter Sorensen, by four and a half and eight points respectively.
Dash sailed his usual exemplary regatta, in fact this is the fourth straight year he has won Division 2 at the SSORC.
The two Premier divisions sailed a two-lap windward/leeward course and then a triangle and windward/leeward race off South Head to finish off the regatta. JustADash was good across all ranges of racing.
"It was very lumpy – leftovers from yesterday's north-easterly breeze and choppy – because of the south/easterly that clocked further east as the day went on," Dash said.

JustADash away quickly at the start - Phil Clinton, MHYC
"The first race was easier for us – 14-16 knots, but when it lightened to 12-14 knots, we struggled, as we tend to do in lighter airs.
"The guys did a good job. We had Foreign Affair chasing us all day and the bigger boats ahead of us. We had to work hard to hold our time," Dash ended.
Farr 40 win to Edake
MHYC member Jeff Carter and his crew were at the top of their game with Edake, claiming the Farr 40 component of the SSORC. Carter defeated his nearest rivals, Zen (Gordon Ketelbey) and Double Black (Rob Pitts) for the top spot.
Finishes were a lot closer than the scores indicate – six seconds was all that came between Edake and Zen in Race 1, Edake lost Race 2 by eight seconds to Exile etc – the difference being that Edake won three, placed second in two and finished fourth in the final windward/leeward race, whereas the rest of the fleet did not sail consistently.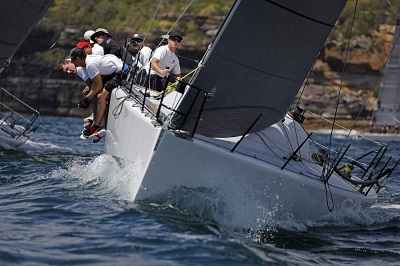 No headaches on winner Edake - Allan Coker Photography
"Yeah, that final race, we didn't even need to sail, but we wanted to compete. We started aggressively, but were OCS'd, so it took us a bit to get back into it, Carter commented.
"It was hard steering because of the south-easterly swell. The crew were yelling 'too low and too high'. The south-easterly to easterly breeze wasn't easy either; at the start of racing it was 14-15 knots, but dropped to 10-11 knots.
"Hats off to the guys who came up from Melbourne; Double Black and Nutcracker (Rob Davis/Andy Baker). We'll have at least 10 boats at our next regatta at Pittwater, including these two," Carter ended.
Little Nico pips Easy Tiger III for Super 12's trophy
Adrian Walters' Shaw 11 metre, Little Nico, edged out Chris Way's Melges 32, Easy Tiger III by half a point to win the Super 12's trophy at the SSORC. Rod Jones was third with Machiatto, but the Queenslander fell out of contention for the top prize after blowing up a runner block in yesterday's Race 4. It cost him dearly.
The fleet traced the 7 Islands Race course that a separate fleet sailed in the SSORC yesterday, taking in some of Sydney's most famous small islands, both sides of the Harbour Bridge. However, they had a heart-stopping scratch start off MHYC – no room for mistakes in such a narrow channel.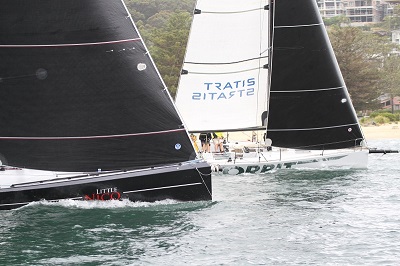 Little Nico and Orbit off the Super 12s start - Pip Lodder, MHYC
One of Walters' crew, Mitch White, said it is a credit to the Super 12s handicapping system that disparate boats with bowsprits, measuring between 30 and 40 feet, could finish a race with exactly the same time after their handicaps were applied.
"Look at the top two finishers point difference – and at Race 3 yesterday, when Machiatto (an MC31) and Easy Tiger ended up with exactly the same finish time. The Super 12s are exciting, sailing outside their usual events, especially in heavier winds."
Middle Harbour Yacht Club thanks its sponsors: Helly Hansen, Sydney City Marine, Key Sun Laboratories, Robert Oatley Vineyards, Club Marine and cocoSAMU for their support to the Club and its events.
Full results and all information at: www.ssorc.mhyc.com.au
Di Pearson, MHYC Media

Sunday 27 November 2016
Notice to Competitiors - Premier Class (IRC/ORCi/PHS) & FARR 40s - click here
TP52s clean-sweep at Sydney Short Ocean Racing Championship
A trio of TP52's, headed by Hong Kong's Karl Kwok with Team Beau Geste and Division 2 defending champ, JustADash, are the early leaders of Middle Harbour Yacht Club's 39th Sydney Short Ocean Racing Championship (SSORC), which started today with a race from Sydney Harbour to Lion Island near Pittwater and return.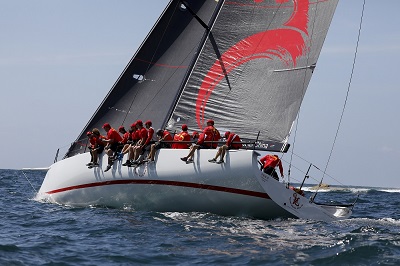 Team Beau Geste - Allan Coker Photography
Kwok and his tight-knit crew are in town ahead of the Rolex Sydney Hobart Yacht Race, honing their skills on their TP52, Team Beau Geste. They won Division 1 overall by nearly 10 minutes from their nearest rival, RKO, the TP52 owned by Aaron Rowe.
Ironically, Rowe will co-skipper Kwok's larger Botin 80, Beau Geste in the upcoming Sydney Hobart, so it was an all-win situation as the two boats use each other for fine tuning. A third TP52, Koa, owned by Andy Kearnan and Peter Wrigley, filled out third place overall, a further minute away.
Division 2 winner was Phil Dash, with his Beneteau First 40, JustADash. Dash has proved a formidable opponent to all-comers, winning Division 2 of the SSORC for the past three years, and today was no different, despite the class field he took on.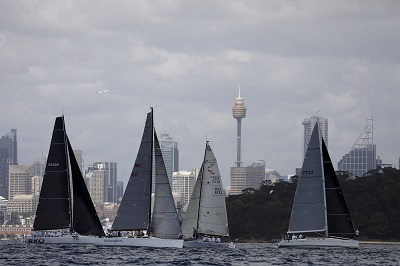 RKO, Philosophers, Foreign Affair and JustADash mill before start - Allan Coker Photography
JustADash overcame a strong challenge from champion skiff and yacht sailor, Peter Sorensen who skippered the latest Philosopher, a Cookson 12, to second place – a mere 52 seconds between the two overall. The Matt Wilkinson skippered Foreign Affair, a Farr 30, was third overall.
Conditions tormented the fleet, north at the start, then east-nor-east and then flicking around to the north towards the end – while competitors also coped with a south-easterly swell, otherwise it was a beautiful sunny day out.
"Conditions made the sea choppy at the beginning, but it got better as we worked our way to Lion Island," Dash commented this afternoon from Middle Harbour Yacht Club where his crew were enjoying the after race festivities on the beach.
"We had a good work up to the Island, except near the Head, where things weren't going so well, but it all came together. We were in reasonable shape sailing back to the Watsons Bay finish under spinnaker," he said.
"A lovely day and 15-18 knots the wind increased to on the return. We had a good race with Sorro (Sorensen) and Toy Box 2 (Ian Box's XP-44, which finished fourth). We sailed well; the crew did a really good job."
Tomorrow's racing may mix results up a bit, as the fleet will sail on windward-leeward courses off Sydney Heads.
While the two divisions enjoyed the passage race, a further 26 boats thrashed it out in the pursuit-style '7 Islands Race', starting and finishing at MHYC and taking in Fort Dennison, Cockatoo, Spectacle, Snapper, Goat, Clark and Shark Islands. It's a fun affair and there are usually a few overtaking lanes to heat the race up.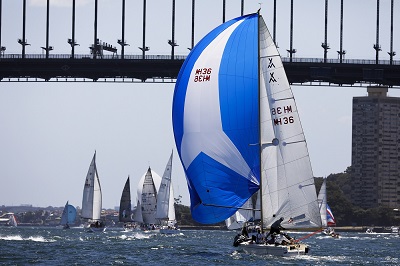 7 Islands fleet heads under the Sydney Harbour Bridge - Allan Coker Photography
Peter Woodhead sailed his Melges 32, XC3SS to a win in Division 1 from Rob Peters' Beneteau First 44 Alacrity and Brian Lees Adams 10, Contentious, a regular top three player.
Division 2 went to Marguerite O'Rourke with her Elliott 7.8, Troppo, from John Crawford's J24, Innaminicka and Paul Glynn's Davison 34, Monkey Business. Lee Pongrass came out on top in Division 3 with Minnow, with Mike Gallager's Galan second and Rob Aldis' Joie De Vie third.
Middle Harbour Yacht Club would like to thank its sponsors: Helly Hansen, Sydney City Marine, Key Sun Laboratories, Robert Oatley Vineyards, Club Marine and cocoSAMU for their support to the Club and its events.
Full results and all information at: www.ssorc.mhyc.com.au
Di Pearson, MHYC Media