Commodore's Welcome
On behalf of Middle Harbour Yacht Club, it is my pleasure to invite you to participate in the 39th Sydney Short Ocean Racing Championship 2016 (SSORC).
MHYC's rich history in Offshore Sailing will have another chapter written as the 39th edition of SSORC marks the beginning of the regatta season in Sydney. Widely regarded as a tune-up for the serious yachts and crews campaigning for the annual dash to Hobart, the SSORC is also another opportunity for regatta regulars to break the shackles of winter and flex their muscle in the brilliant Sydney sunshine.
The format of the SSORC has been updated and tweaked over the last few years in response to what yacht owners are seeking, where a mixed discipline approach confirms a true champion. SSORC 2016 has again had a re-vamp to appeal to a wider audience, so that a quality lineup can thrash it out over the last weekend in November.
The main attraction and the new 'Jewel in the Crown' will be the widely popular race track up to Lion Island with a return finish inside Sydney Harbour. The 'Passage Race' which has found its home on the first day of the regatta, will give yachts competing on either IRC, ORCi and PHS, a chance to really stretch their legs over the 34 nautical mile track. As part of SSORC 2016, the Lion Island Race will form another leg of the CYCA Ocean Pointscore which will undoubtedly add to the superiority of the fleet.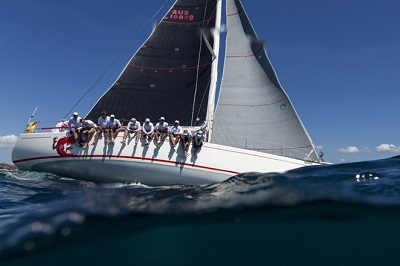 The hot racing action is sure to continue on the second day, with a fast and furious Windward / Leeward Sprint on the traditional Manly or Macquarie Circle, where after a final race, a Short Ocean Race starting offshore and finishing inside Sydney Harbour, will finalize the Championship placings over a short and sharp two days.
Adding to the spectacle will be the annual 7 Islands Race for inshore yachts on Saturday 26th. An MHYC favorite, this is a Feature Race for all Saturday sailors and their crews from Clubs all over Sydney, which gives them a break from regular point score racing and allows them to join in the fun of Sydney's first major regatta of the racing season.
Tie all this up with the daily post race entertainment and beach party on the shores of MHYC, a whole weekend of sailing splendor awaits you, your crew and family. Whether it's serious Championship racing, a challenging Inshore Harbour Course or a relaxing drink on our picturesque beach, the 39th Sydney Short Ocean Racing Championship is set to wet your appetite.
I welcome you to a Premier Event and look forward to seeing you on the start line or at the Club on the 26th & 27th November, 2016.
Yours in Sailing,
John McCuaig - Commodore, MHYC